Battery One at Wacker Neuson
With the Battery One battery system, you can operate all our battery-powered construction equipment. Battery One is a simple and standardized system. The battery fits not only all battery-electric equipment by Wacker Neuson, but also construction equipment from other manufacturers.

The Battery One battery offers many advantages: you save costs on equipment and infrastructure, reduce emissions on the construction site and benefit from a high performance efficiency and battery range. It also simplifies your job site operations, as you only need one battery and charging system. With the Battery One battery, you are equipped for the future.
The advantages of the Battery One battery
Today, Wacker Neuson already offers over ten types of construction equipment compatible with the Battery One battery.
One battery charge is sufficient for a full workday - without recharging or replacement battery.
The battery can be changed quickly and easily, even between different machines.
1
2
3
4
/ 4
Vibratory rammer: full speed ahead.
The Battery One battery powers all battery-powered rammers by Wacker Neuson and ensures your ability to work without CO2 emissions and at full output, safely and without complications - even in poorly ventilated environments and trenches.
Plates: all-rounders with battery drive.
The single-direction and reversible battery-powered plates by Wacker Neuson take on all the classic compaction tasks, thanks to their powerful Battery One battery. The battery starts at the push of a button and can be exchanged in no time at all. One battery charge is all you need for the applications on an average working day on the job site.
ACBe: cordless concrete consolidation.
With the battery-powered backpack internal vibrator ACBe, the user has maximum freedom of movement and flexibility in concrete consolidation on the job site. The Battery One battery can be used not only in the ACBe and all battery-powered construction equipment by Wacker Neuson, but also in machines of other manufacturers.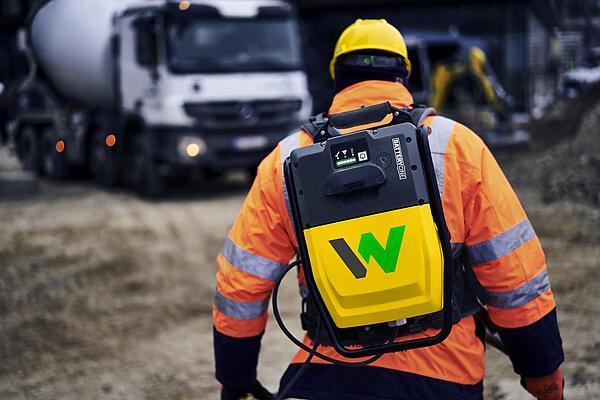 Battery chargers: charge easily, quickly and conveniently.
Under the brand name Battery One, Wacker Neuson offers two types of battery chargers: the standard battery charger BOC7 or the quick battery charger BOC13 in the practical Systainer box, which ensures short charging times.
Previous
Next
Frequently asked questions
1
/ 5